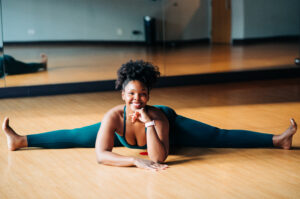 Cierra was born and raised in Chicago! Cierra's background is in dance and she brings that knowledge of fluid movement and alignment into her classes through dynamic transitions and specific cues. She began her dedicated yoga practice in 2012 beginning with a Bikram challenge, learning she loved a heated practice but needed music and variety to drive her. When she ventured into a CPY HPF class she was hooked on yoga! Cierra completed her 200hr Yoga certification in 2014 and continued to become certified in Sculpt (Yoga with weights) and Hot sequences. Cierra continued her yoga education through Jason Crandell's 300HR training in 2021 and Zen Yoga Garage's Pre/Postnatal Yoga Teacher Training. She loves to bring powerful movements and soulful beats into her vinyasa classes and  intelligent flows and hip hop beats into her fitness classes. You can catch her on her mat at least 4 times a week and if she's not there she's moving her body somewhere! Her goal in teaching is to provide each student a platform to grow authentically in their practice both on and off the mat. Cierra has been a part of the Zen Management Team since 2020.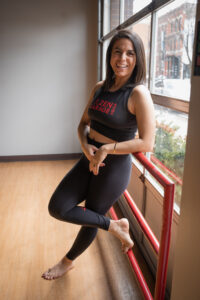 Melissa Talleda (ERYT-500) began her yoga practice as a young teenager on the east coast. As a dancer, she found yoga as a way to find more strength and flexibility to complement her practice; but yoga soon became her main focus.
Yoga provided an outlet in which she felt fully in control of her own body, and began to feel a connection between body, mind, and spirit. The lessons learned through her practice, began to translate off the mat. Melissa learned to better deal with stress, loss, and disappointment, and wants to spread this freedom to others. In 2012, after a professional dance career, Melissa moved to Chicago to obtain her Graduate Laban Certificate in Movement Analysis.
She continued her education to obtain her RYT-200 through Zen Yoga Garage, and further through a 300hr training with Jason Crandall. Melissa incorporates her dance and movement analysis backgrounds to create a class that focuses on alignment while working to let go of the stresses of the day, and find mindfulness through movement. She aims for each student to feel cared for, challenged, and comfortable with where they are. Come flow with her for a fun, challenging, and loving practice!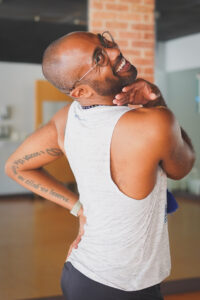 Asher Ahmahd Waldron has always made an effort to balance his passion for both music and movement. Graduating with a Bachelor degree of Music Performance, he desired to take a break from music and dive deep into the world of Dance. His yoga journey began in 2010 during his time as a competitive Dancer and a HS Dance Teacher. He used his knowledge of the practice as a tool to incorporate mindfulness into the movement of his high school dance students. Although it was met with resistance, yoga soon became something the students looked forward to. After his move to Chicago in 2013, Asher began to take his personal practice more seriously and was eventually presented with another opportunity to teach young people mindfulness through movement as the Choreographer for the South Shore Drill Team.
Working the practice into his rehearsals changed both the physical movements of the dancers and the way they approached challenges in rehearsals, performances and life in general. Asher began an academic approach to yoga in 2018 while working on his Master of Arts in Applied Music Pedagogy degree hoping to find inspiration for his Thesis subject, Clarinet Yoga: A Holistic Guide to Body Awareness in Clarinet Pedagogy. As a musician that was experiencing chronic pain, this was a subject that was imperative to his future as an artist. Taking his thirst for knowledge further, he joined the Zen YTT spring 2020 cohort. Finally there was an opportunity to combine his passion for music and movement with the joy of teaching and helping others in the community. Asher is looking forward to continuing this journey and can't wait to inspire more people through Music, Movement and Mindfulness